Full LED headlights VW Golf 7.5 Restyling OSRAM LEDriving GTI
FULL LED headlights VW Golf 7.5 Restyling OSRAM LEDriving GTI Upgrade Halogen and LED headlights as standard
POWERFUL. You can have all the brightness you want. Switch to LEDriving LED headlights for your VW GOLF 7.5 Restyling. A new and unmistakable look, improved visibility and safety in just a few steps.
DISTINCTIVE DESIGN
IMPROVED SAFETY
MORE VISIBILITY
COMPLETE KIT
DYNAMIC APPROVED GUARANTEED EASY SAFE
FULL LED headlights VW Golf 7.5 Restyling OSRAM LEDriving GTI Upgrade Halogen and LED headlights as standard APEHL109-GTI
Completely redesigned. Our most advanced and efficient LED technologies will enhance your VW GOLF 7.5 Restyling
Switch from Halogen and LED to FULL LED Dynamic. LEDriving the dynamic Full LED headlight kit for VW Golf 7.5 Restyling from 2017 with Halogen and LED headlights as standard. The LEDriving LED headlight kit will give a new and distinctive look to your VW Golf 7.5 Restyling.
Easy to install. Improve VISIBILITY, SAFETY on the road and the DESIGN of your VW Golf 7.5 Restyling in just a few steps. APEHL109-GTI a unique, complete and Full LED kit with latest generation dynamic arrow. Quick and easy to install with 2-year OSRAM warranty (more info CLICK HERE)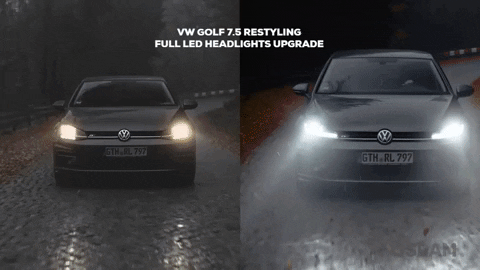 Available in 2 versions: BLACK e GTI CHOOSE THE MOST SUITABLE!
THE DIFFERENCE? IN THE RED OR CHROME "MUSTACHE" TO BETTER FIT YOUR VW GOLF 7.5
Original VW Halogen LED Headlight vs LEDriving Full LED Golf 7 Facelift
FUNCTIONS OF THE LED HEADLIGHT KIT VW Golf 7.5 Restyling LEDriving
LED low beam and high beam
LED daytime running lights
LED position lights
Dynamic LED turn signal
COMPATIBILITY
VW Golf VII 7.5 Sedan (BQ1 / BE2) from 2017 to 2020
VW Golf VII 7.5 Variant (BV5) from 2017 to 2020
Not suitable for VW Golf 7 version from 2012 to 2017 CLICK HERE
REPLACES THE FOLLOWING ORIGINAL VW CODES
VW code 5G1 941 005 D LEFT FRONT HEADLAMP or 5G1941005D
VW code 5G1 941 006 D RIGHT FRONT HEADLAMP or 5G1941006D
Can't find the code for your VW Golf 7 headlight? Contact us!
INFORMATION ABOUT THE FULL LED GOLF HEADLIGHT KIT 7.5
CONTAINS: RIGHT and LEFT HEADLIGHTS
IT'S 100% COMPLETE
NO NEED FOR ADDITIONAL PARTS
COD. APEHL109-GTI
EAN 4062172169622
Before making your purchase, please make sure the product is compatible. If you have any doubts or uncertainties, use our PRO assistance service via WhatsApp, it's free!
#LEDrivingPRO – You can update your GOlf 7.5 even in the garage of your home, you have all our support!
The installation of the VW Golf 7.5 LED headlight kits is simple and requires few steps. LEDriving kits are complete. Our video and paper instructions are detailed to make installation even easier and faster. DOWNLOAD THE INSTALLATION MANUAL coming soon!
#InstallLikeAPro
NEED AN INSTALLER? SEARCH FOR OUR CERTIFIED INSTALLER NEAREST!
Switch to LEDriving now!
⚡ Auto Parts Europe – Certified Reseller OSRAM Automotive ⚡
SUBSCRIBE TO OUR YouTube CHANNEL
| | |
| --- | --- |
| Weight | 10,00 kg |
| Dimensions | 65 × 35 × 55 cm |
| Service Level | BASIC assistance, PRO assistance |
| Marca | VW |
| Modello | |
Spedizione Sicura, Veloce e Tracking immediato
Vuoi che il tuo prodotto parta in giornata? Ordina entro le 11:00 AM* e ricevi il tuo tracking via mail non appena il tuo ordine lascia il nostro centro logistico.
*valido per i prodotti disponibili presso la sede Logistica riportati con la voce

"Disponibile (ordinabile)"



NB I prodotti che riportano la voce

"Disponibile su ordinazione"

potrebbero essere "in arrivo" e verranno spediti non appena in Stock
Per maggiori info contattaci via mail info@autopartseurope.com o WhatsApp!